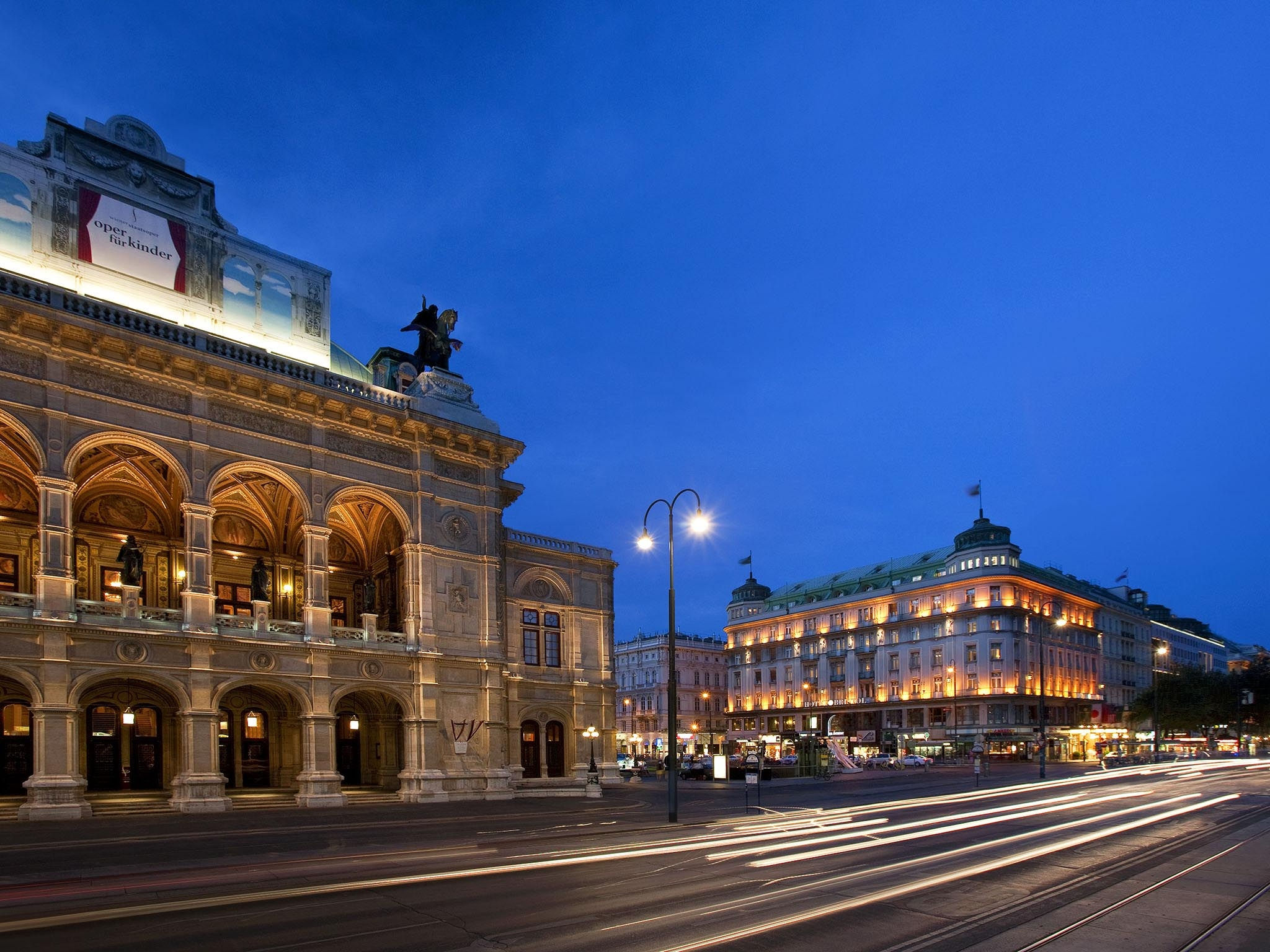 Environment & Sustainability at Hotel Bristol Vienna
Environment & Sustainability at Hotel Bristol Vienna
For a global enterprise like Marriott, environmental protection and corporate social responsibility are a matter of course.
Bee-keeping is a sustainable business, supported by Nobility of Nature, a project for freshwater protection in China.
Environment
Our sustainability guidelines support economic growth and impact our hotels as well as the protection and conservation of our planet's natural resources. Marriot's goals for environmental protection include:
Further reduce energy and water consumption by 20 % by 2020 (power: 20 % per air-conditioned square meter; water: 20 % per occupied room (POR). Reference value: 2007);
Empower our hotel development partners to build green hotels;
Green our multi-billion US Dollar supply chain;
Educate and inspire associates and guests to conserve and preserve and
Address environmental challenges through innovative conservation initiatives including rainforest protection and water conservation.
Reduce consumption
We were the first large hotel group measuring the CO2 footprint and making plans for improved energy efficiency, lower water consumption and support of projects reducing deforestation. Database and monitoring systems help us observe consumption and goal development.
Cooperation with suppliers
We cooperate closely with our suppliers to offer price-neutral products that save energy, reduce waste, can be recycled and contain sustainable materials. Energy-saving light bulbs, shower heads with lower water consumption, pre-washed and easier-to-wash towels, keycards and pens made of recycled materials and biodegradable laundry bags are only a few of the products that help our hotels achieve our sustainability goals.
Fairtrade
If you savor coffee at the Hotel Bristol, you can do that with a clear conscience. The Luxury Collection Hotel on Vienna's Ring Boulevard commits itself to sustainability by offering Meinl organic FAIRTRADE coffee.
Not without reason the Hotel Bristol has earned itself the Eco Label of the City of Vienna. Intelligent air-condition and heat recovery systems are not enough though when it comes to sustainable management. Fair Trade coffee is a small but important contribution to guaranteeing fair prices for producers. Tradition is alive and - as the exquisite aroma of coffee reveals - it is cultivated with careful attention here. FAIRTRADE coffee is also served at the Bristol Bar and Bristol Lounge, as well as in the rooms and festive halls of the Ring Boulevard Hotel Bristol.
FAIRTRADE Quality Label:
proves that small farmers receive a fair minimum price above the world market price for their coffee harvest. Thus, they can live and work under humane conditions.
FAIRTRADE cooperatives commit themselves to environmentally compatible and resource-saving farming methods, emphasizing the prevention of environmental burdens for nature and coffee.
Many producers have also converted to ecological farming with organic certification. Meinl organic FAIRTRADE coffee, for instance, is made of hand-picked Arabica beans from high-lying plantations in Honduras.
Social Responsibility

Caritas

Cooking for the Gruft

Once a month our kitchen team prepares a warm meal for some 250 people in need. Together with associates from the administrative area, the meals are distributed at the "Gruft". Apart from a healthy and saturating main dish, homeless people also receive a small cake or fruit dessert.

VinziRast

Throughout the year our housekeeping team collects diverse unused amenities (shower gel, body lotion, slippers) and donates them to the VinziRast charity. There, up to 60 homeless people, women and men (even couples) are offered a warm bed, a warm meal, clothes, shower and bathrooms. This year, we were able to donate amenities in the amount of € 400.-.

SOS Children's Villages

The organization SOS Children's Villages is represented in 135 countries worldwide, operating more than 550 SOS Children's Villages and more than 1,500 other programs for children and adolescents as well as family empowerment. Among them are kindergartens, schools, social centers, medical centers, and charity programs. This year, six associates from different departments and other Marriott associates supported diverse cleaning works of the SOS Children's Village Vienna. To support this important organization in the pre-Christmas season, the Hotel Bristol invited the children to attend a St. Nicholas celebration.
Social responsibility for associates
Every two weeks, Bristol associates can consult a company doctor at the hotel. Apart from this consultation-hour our company doctor offers free vaccinations against FSME and influenza. Throughout the year, associates have the opportunity to undergo diverse preventive check-ups (cancer, hepatitis, lungs, eyes, etc.).
In October 2017 the Hotel Bristol offered its associates a very special kind of check-up: a bioelectrical impedance analysis. BIA is an acknowledged scientific method to measure the body's composition. In nutritional medicine, the nutritional and physical condition is not only calculated from weight and BMI, but also from body composition. A positive composition adds considerably to health maintenance. Our associates received a graphic evaluation of the outcome and general recommendations.
As the fitness of our staff is one of our priorities, we are happy about our cooperation with the John Harris fitness group. Our associates enjoy reduced fees at all John Harris subsidiaries and can thus work out for less money.
But our associates also do sports together. We are proud of our Bristol Soccer Team which won the annual Hotel Career Cup. But even jogging enthusiasts get their share at the Bristol. Like every year, they participated in the Vienna Business Run and in the Night Run 2017.
Eco Quality Label
| | |
| --- | --- |
| | Viennese hotels have to deal with hundreds of tons of laundry and even more tons of waste every year. They use high amounts of cleaning agents and spend thousands of kilowatt hours of energy. The Austrian EcoQuality Label for Tourism, however, shows that tourism and environment can walk hand in hand. The environmental award is conferred upon Austrian hotels and restaurants with eco sensibility and services in line with sustainability. Since 2006 also the Luxury Collection Hotel Bristol has been carrying the eco label. |